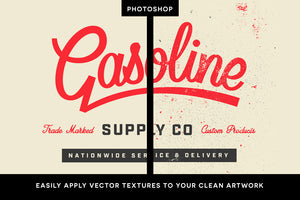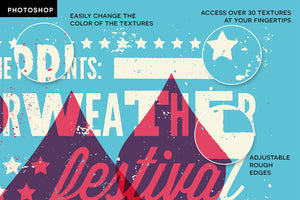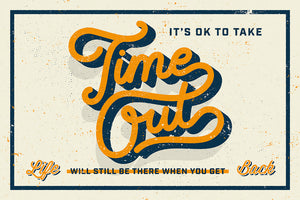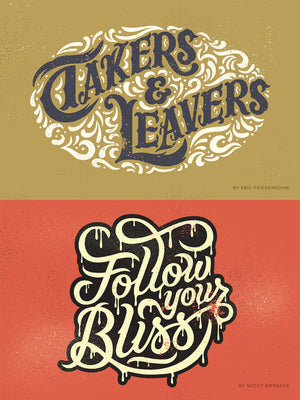 PitStop - Subtle Texture Effects
PitStop - Subtle Texture Effects in Photoshop & Illustrator
Every wanted to get those subtle vector textures and rough edges that you see on awesome screen printed posters? Now you can with PitStop.
PitStop is kit to help you get those cool effects easily. It features 33 hand made vector textures. 10 of which are made by vector texture tutor Ben Stafford - http://www.benillustrated.com/
What's even better is that PitStop comes in two flavours. PitStop for Photoshop and PitStop for Illustrator.
PitStop for Photoshop - Open up the PSD and drop your work into the smart object and get access to all 33 vector textures instantly, split into 3 different groups which can be easily colored. It also adds rough edges to your work, that can be adjusted to suit your style.
PitStop for Illustrator - Install the 33 graphic styles and the vectorize action and you can add subtle textures to every part of your artwork. Because these are subtle textures then you can add them to shapes as well as text without your computer coming to a complete stop. Make sure you have a copy of your work next to the one your working on for color reference as the effect has to be applied in black & white.
33 Vector Textures - If you don't need any of the above, then all 33 vector textures are supplied as individual .ai files saved down to CS3.
Instructions - You'll get separate PDFs for each PitStop walking you through the process of how to place your work and edit the effect.
Requirements - PitStop for Photoshop - CS3 to CC 2015 PitStop for Illustrator - CS6 to CC 2015
Support - Please use the Creative Market support system to get in contact with any support requests you may have. I don't always get notified if you leave a comment so the messaging system is a quicker way.
---