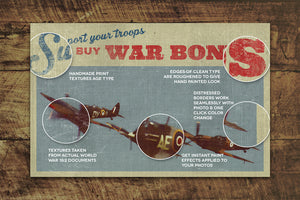 National Service - War Posters Kit
After the much successful PosterPress - Vintage Travel Posters, I set out to make a product to recreate the stunning poster art of the 1st & 2nd World Wars.
With National Service PSD you get instant paint effects to any photo and also vintage print effects to your type. I've also included an exact replicate of a ration book with fully customisable text with the same effects applied to type as the main PSD.
You also get 20 handmade print textures that ages and distresses the posters but also 10 textures taken from actual World War memorabilia such as letters, books, leaflets and documentation. Plus I've research the typography of the era and produced 4 pages worth of free fonts and where to download them categorised into their different styles.
So buy today and start making your own posters to sell / giveaway / keep for yourself!
Video demo: https://vimeo.com/121242783
---
Thanks to Sam Jones for his expert help in engineering the paint effects to the photos. Check out his latest product The Dot Shop here: http://crtv.mk/pysz
---
What do you get?
National Service PSD (3000 x 2000px Landscape / Portrait)
National Service PSD (4500 x 3000px Landscape / Portrait / Square)
National Service PSD (US Letter Landscape / Portrait)
Ration Book PSD (Completely editable replica Ration Book)
Keep Calm an Carry On PSD
10 War time textures (taken from actual letters, books, leaflets, documents of both World Wars)
20 Handmade print textures (brayer roller, scratches, dust, board, halftone)
Instruction Manual
4 pages with free fonts taken from this era (Sans, Slab, Serif, Script, Stencil)
Requirements:
Adobe Photoshop CS3 or newer. Won't work in any other programme or Photoshop Elements.
---