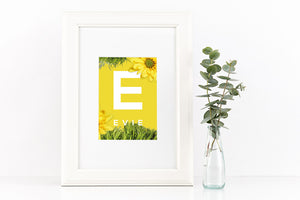 Illustrator
FlowerType for Illustrator
Create beautiful Typographic Floral Layouts easily in Illustrator!
Gorgeous pieces of artwork using flowers and lettering are all over Pinterest, but they looks so complicated to achieve and out of reach for most designers.
Yet they are super easy to do if you have the right resources.
With FlowerType for Illustrator you get a toolkit to make your own. Each flower has been expertly image traced from the original FlowerType for Photoshop and converted into a symbol library so all you have to do is drag and drop the flowers onto your artboard and within minutes your creating designs that you never thought possible.
For the Photoshop version click here: http://crtv.mk/zCIs
---
Download a free Sample » http://d.pr/f/ZtNP - Includes 5 free vectors / symbols to use.
---
Here's what you get in FlowerType:
6 Yellow Flowers
4 Blue Flowers
14 Pink Flowers
4 Purple Flowers
5 White Flowers
11 Pieces of Foliage
Drag & Drop layouts using the Symbol Libraries
Landscape & Portrait Example layouts
Image Trace settings so you can make your own flowers
Instructions PDF
---
All flowers were originally photographed by the talented Alicja Colon of Construction Supply Co -http://crtv.mk/h0Bnonn
---